NAPRA Pharmacy Cleanrooms
Practical considerations for design, construction and maintenance
Hospitals across the country are in the process of determining how they will address the facility requirements contained in the latest model standards released by the National Association of Pharmacy Regulating Authorities (NAPRA). The new requirements apply to both Sterile Compounding and Hazardous Compounding facilities and introduce the requirement to meet cleanroom construction and operation standards for the facility.
Specific design challenges for hospitals include: how to upgrade existing facilities while maintaining services, ensuring the existing building services could support the rooms, and optimizing the design for process flow and productivity while keeping staff and patients safe. Cleanrooms require sophisticated wall construction and HVAC which can be a challenge to implement in some areas. Available cooling, power, and floor-to-ceiling space can be big factors in determining the location of these pharmacies. Similarly, hazardous compounding suites must be vented directly outdoors and incorporate proper exhaust clearances and dilution.
In most cases a modular cleanroom solution offers considerable benefits including cleanroom grade wall/ceiling systems, faster assembly resulting is less down-time and impact to staff and patients. The assembly is often designed to fit within the available space. In addition to meeting NAPRA and CSA design requirements, the new facilities focus on providing a flexible and productive space for staff.
Construction of pharmacy cleanrooms requires significant attention to detail. Cleanroom providers have systems which allow for completely flush surfaces for windows, doors, and other components of the room. The ISO standard 14644 requires all room corners to be coved, including at ceilings and floors. Doors, walls, and services mounted in rooms must be airtight to ensure pressure control can be achieved. Modular cleanrooms have embedded raceways for electrical, services, and low-level returns which make sealing the environment easier to achieve. Critical to cleanroom construction is selection of wall materials that are suitable for the harsh chemical cleaning agents that are required. Surface treatments such as uPVC and stainless steel are preferred.
During installation of the cleanroom there must be careful consideration to how the equipment, services, casework, and wall system interface. Coving on wall interfaces restrict placement of casework and equipment. Similarly, any ledges or flat surfaces must be minimized, often requiring shrouds to ensure the room can be effectively cleaned. Allowance must be made to ensure equipment can be moved into the space once all walls and doors are in place. Every opening into the room, including electrical, IT, plumbing, and services must be completely sealed to ensure pressure control is maintained.
Operation considerations include a pressure monitoring and recording system to ensure spaces meet required performance. Systems integrated to the facilities Building Automation system gives building operators access to monitor the cleanroom continuously, and safely retain data. The HEPA filter units can include LED status indicators letting staff know if any maintenance is required. Use of glazing and half lights on the doors provide good visibility into the space and reduce any claustrophobic effect.
Pharmacy compounding rooms constructed to meet the new NAPRA model standards offer a new level of safety for staff and patients. Introducing cleanroom standards to the operation of these facilities can be an opportunity to revisit compounding operations, improve overall process flow, and ultimately protect both staff and patients.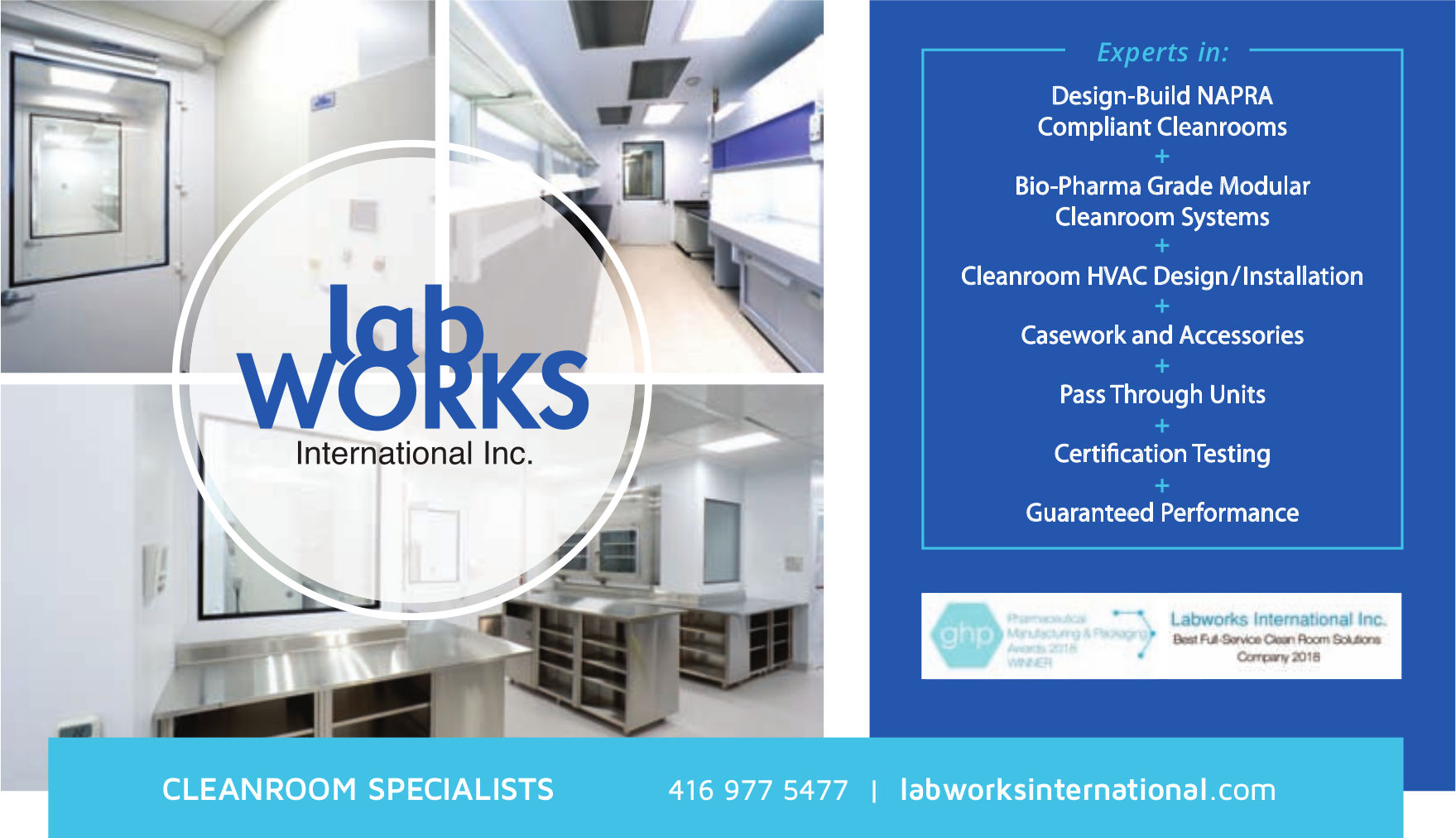 From Hospital News June, 2018 Issue, Page 29.